Battle Winter Scalp with a Detox
The temperature has dipped; it's time for holiday shopping and family dinners to plan. Winter can bring many stresses; then you notice your scalp starts to itch and feels dry and tight... that's all you need, right?  
Your scalp needs moisture! Why? Let's start with a little science: The exterior layer of our scalps is made up of derma (skin cells), which needs protecting and moisturizing just like the rest of our skin. Plus, healthy hair grows best from a scalp that is nourished and moisturized.
A dry scalp without adequate levels of moisture is not a supportive environment for healthy-growing hair. It can be sore, red, and possibly flaking or itchy.  If it is itchy, sufferers might find themselves frequently scratching at the roots, which, in turn, damages the scalp and existing hairs.
Don't worry; our top 5 curated scalp health solutions will give you one less thing to scratch your head about.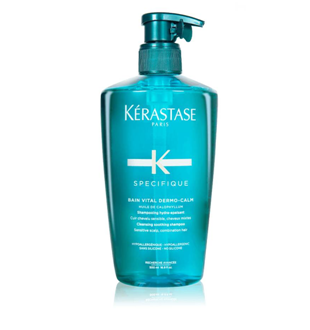 Kérastase
Bain Vital Dermo-Calm Shampoo
500ml | $52
Luxury brand Kérastase never fails to have something for everyone. Their Bain Vital Dermo-Calm is a silicone free shampoo for dry scalp; reduces itchiness, and gently cleanses and soothes the scalp, and gives the hair a light, airy feel.
Keys ingredients include: Calophyllum Inophyllum Seed Oil: More commonly known as Tamanu Oil, calms scalp irritations with anti-inflammatory properties.Glycerin: A great humectant, helping your hair to attract and retain moisture. Menthol: Gentle cooling and scalp-stimulating effects.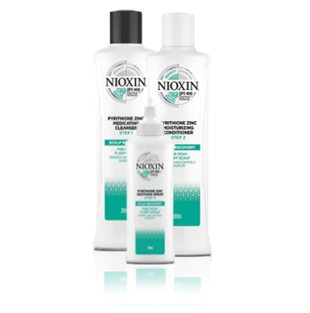 Nioxin
Scalp Recovery System
System Kit | $45.50
Nioxin knows hair, especially when it comes to what might be causing hairless, thinning , and numerous other ailments; so it goes without saying that they would have a specialized kit created to treat dry itchy scalp. When used as a system you'll reap the  full benefits.
The Medicating Cleanser is an anti-dandruff shampoo with dermatologist-tested active ingredients to cleanse the scalp and reduce hair loss associated with itching. 
Follow it up with the daily moisturizing conditioner that helps reduce dandruff, soothing the scalp and providing smoothness and manageability to the hair. 
As a final step you get a soothing leave-on treatment to help relieve dandruff and scalp itching associated with seborrheic dermatitis, leaving the scalp 100% flake free.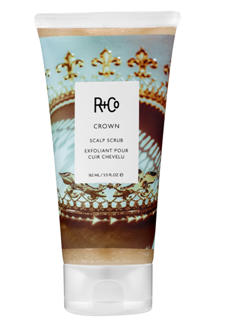 R+Co
Crown Scalp Scrub
5oz | $32
R+Co never fails in turning out some of the best (and sometimes unique) hair care. Know those scrubs you use to make your hands feel great? Think of Crown as a version for your scalp.
Crown claims to rebalance the scalp by purifying and detoxing through their natural ingredients; giving way to a healthy scalp and shiny hair.
Ingredients include: Salicylic Acid, minimizes build up on the scalp to optimize follicle health. Removes loose dandruff flakes. Ecuadorian Ivory Palm Seed Powder, a gentle yet effective naturally derived exfoliant. Kaolin, a naturally occurring, mineral rich clay. Absorbs excess oil on hair and scalp, leaving hair with body and fullness. Promotes scalp health by removing loose dandruff flakes.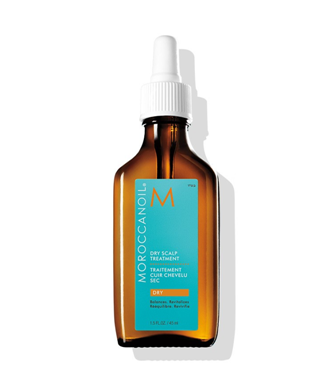 Moroccan Oil
Dry Scalp Treatment
1.5oz | $38
When most people hear Moroccan Oil, they probably think about that alluring scent of rich argon oil and possibly their signature oil treatments. But they have a slew of products catering to an array of hair types and needs.
Their Dry Scalp Treatment addresses the needs of a dry and flaky scalp, instantly relieving irritation, dryness and itchiness. Working to restore scalp imbalances and help relieve scalp irritation while revitalizing the hair. The lightweight but concentrated formula is infused with antioxidant-rich argon oil and lavender and geranium essential oils to nourish and soothe dry skin. Salicylic acid gently exfoliates to help reduce flakiness. Circulation improves with use of Moroccan oil Dry Scalp Treatment. and hair reaps the benefits, getting a dose of vitality and shine.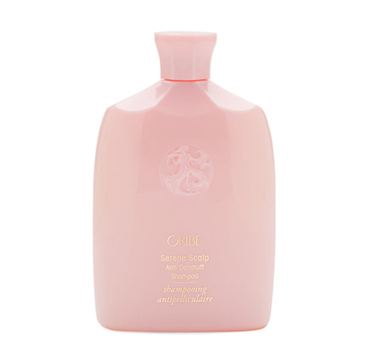 Oribe
Serene Scalp Shampoo
8.5oz | $46
Titled as the "No Flake Zone" from Oribe, the Serene Scalp collection is truly gentle yet gives ultimate results in banishing those pesky flakes from dry irritated scalp. If you want a truly indulgent experience, or are "hair obsessed". This one's for you.
Bilberry Fruit & Sugar Maple Extracts soothe the scalp while protecting against free radical damage.
Pea Sprout Extract restores elasticity to strengthen hair and prevent breakage.
Caffeine energizes scalp and rejuvenates hair follicles.
Sugarcane Extract deeply hydrates and nourishes hair and scalp.