Our Sustainability Mission: To keep hair, metals & plastics tainted with chemical residues out of landfills and waterways. With your help, and our partnership with Green Circle Salons, we will divert up to 90% of the waste associated with our salon services.
Who are Green Circle Salons?
Green Circle Salons (GCS) provides the world's first, and North America's only, sustainable salon solution to recover and repurpose beauty waste ensuring that we can help keep people and the planet beautiful.
GCS is able to transform beauty waste into a desirable commodity through an award-winning platform built by the industry, for the industry. Their turnkey program allows salons to repurpose and recover up to 95% of the resources that were once considered waste; materials such as hair, leftover hair color, foils, color tubes, aerosol cans, paper and plastics.
GCS helps us do this in a way that is simple, open & honest - everyone is involved and everyone wins.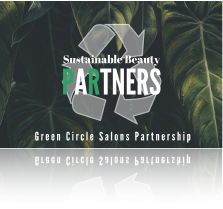 What does $1 do?
The $1 eco fee is to partner with us to send these items to a specialized company that can repurpose and recycle these items that would otherwise end up in landfills and local waterways. PR at Partners already pays for trash and limited recycling. Sadly, the unique waste we produce: foils, plastics, hair, and chemical residue cannot be recycled in traditional facilities.
PR at Partners & Green Circle is providing materials & specialized training to collect these items, correctly package, and send them to Green Circle. Upon arriving at the Green Circle facility, the items will go through an extensive process to repurpose and recycle them.
Think Green:
Last year Green Circle diverted 560,856 pounds of beauty waste from landfills and waterways. The beauty industry creates 877 pounds of waste every single minute. Thankfully, 95% of this can be recovered and repurposed.